As I'm setting up SEO and content marketing for AllFactors I've been testing a bunch of SEO tools and doing SEO tools comparison. I found that the leading ones are Ahrefs, SEMrush, Moz, and Ubersuggest.
I started using the tools to see which one is best and noticed that some are easier than others. Overall though they are pretty similar.
Whether you're looking to use the tools for content marketing keyword research, competitive analysis, keywords idea and measurement, or link building, this guide is meant to show you the best functionalities to achieve all that. As well as all the similarities so you know what's the same no matter what tool you use.
Similar Features Across All The Tools
Site Audit
This functionality enables you to do a site crawl to see reporting on how to optimize your on-page SEO. It's a technical audit of how things are working on your site and what to improve if any.
Ahrefs
Moz
Ubersuggest
SEMrush
Keyword Research
This section enables you to search based on a keyword. Once you start with one search it will show you all the data you need to know about that keyword. It will also show you all the keywords related to that keyword so you can have a comprehensive view of all the word combinations. In addition you will see the pages and relevant content that's ranking for the keyword. You can then drill down and analyze.
Ahrefs
Moz
Ubersuggest
SEMrush
Link / Site Explorer
This feature lets you analyze any domain URL. Super useful to analyze your website as well as your competitor's links. The tool will show you the Domain Authority and other relevant scores and comparisons. As well as the websites linking to you, whether they are dofollow or nofollow and a lot of other useful data.
Ahrefs
Moz
Ubersuggest
SEMrush
Unique Features Across The Tools
Ahrefs
The Content explorer tool is pretty awesome and makes it easy to find useful data for content ideas. It also shows you how the topic is trending for content creation over time. 
Moz
Has a lot of free SEO tools that sometimes are even more useful than the paid tools.
Ubersuggest
The project feature is useful in tracking your site and keywords. This feature exists in the other tools too, but this one gets you coaching and personalized help from the Neil Patel team.
SEMrush
SEMrush is feature packed more than any other tool. One unique new feature that stood out to me is the Market Explorer. You put in a URL that's decently trafficked and it will give you a competitive analysis of companies in the market and how they move in the competitive landscape quarter over quarter and year over year.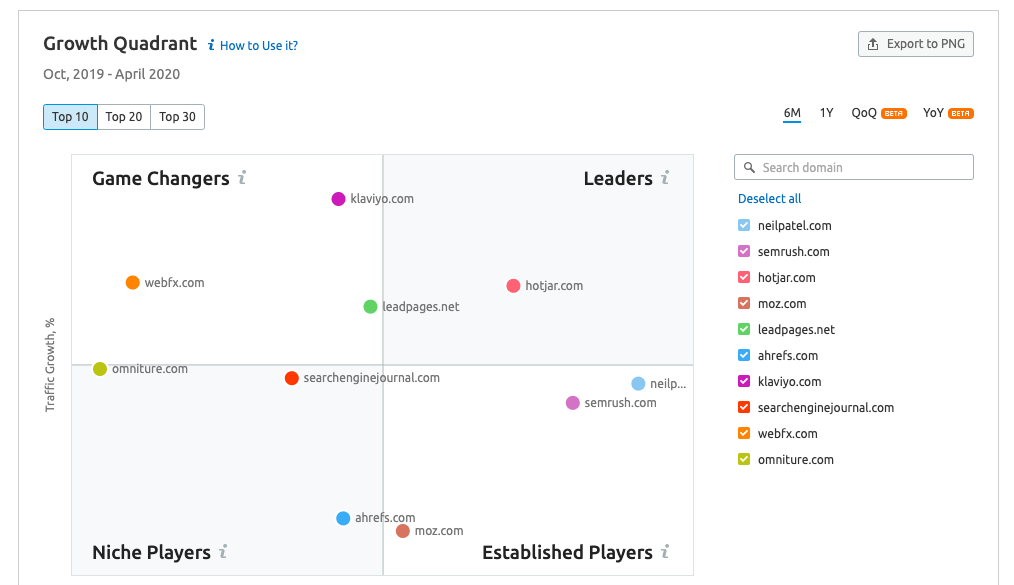 Goals You Can Achieve With Each Tool
Achieve with Ahrefs
Find content opportunities based on your competitor's pages that get the most search traffic - Use the Site Explorer tool. Paste the link in the search bar, then click Top pages. Find the low competition by looking at total search Traffic vs. the number of Referring Domains (RD). When there is high Traffic and low RD that's a signal of a great opportunity.
Research the quality of your competitor's backlinks and get an understanding of how they got them - Go back to the Top pages list and look at the RD number for a links that are relevant to you. When you click the number you'll see a list with the referring domains. If you want to dig deeper into the linking pages you can go to the Backlinks report, the list will show you where the link is coming from and data about those linking pages.
Filter the list by Dofollow so you can see which links actually help ranking.
You can also see the anchor text linking to the page which is super cool, it gives you context for why that page is linking.
Another useful feature is the Include filter for 'Word or phrase', by using it you can find the links that include keywords that matter to you. For example the word Resources, linkers with that word would be great targets for you to reach out to and ask to add your resource page.
Find low competition topics with high traffic potential - Use the Content Explorer tool. Type in your Keyword and hit search, you'll see a list of articles.
Then filter the results using the Referring domains filter, set the To field to "0" to identify low competition topics.
Next use the Organic traffic filter and set the From field to "1000". The results will show all the pages that receive over a thousand search visitors per month.
In each result you then can click Details and the Organic keywords tab to see all the keywords they rank for, the ranking position, and the amount of traffic each keyword accounts for. Try using this feature with a broad keyword related to you and you will discover great new keywords you can use to generate traffic.
Find keyword data from 10 different search engines - Use the Keyword Explorer tool to choose the search engine and research your keyword across the engines to see how the traffic compares in each one.
Find a ton of relevant guest blogging sites - Use the Content Explorer tool, type in your relevant keyword. Then click the "One article per domain" filter since you don't need to pitch the same website more than once. Also, you want a good enough domain and if you're new to blogging then you can set the Domain Rating filter to From 30 to 40. It's the perfect way to find smaller sites so you can get practice pitching, writing, and building your portfolio.
If you are a seasoned guest blogger then you can set the domain to From 50 or 60 which will narrow it to more established blogs. Now, pitch a good number of sites and you are off to the races.
Find new link building opportunities on complete autopilot - Use the Backlinks alerts feature to find where the top ranking pages are getting their links from, in real time. The way to do this is first go to Google and type in the keyword you want to rank for. Next, copy the URL of the top ranking pages. Then go to the Alerts section in Ahrefs and click New alert
In the alert setup pop up paste the URL, then click the Scope drawdown and choose New backlinks.
Now anytime that page gets a new backlink you'll receive an email notification.
In that list when you see an opportunity to pitch your page, then you'll have timing on your side.
Content gap tool - shows you the keywords that your competitors are ranking for, where your website isn't. If two or more of your competitors are ranking for a keyword, then there is a good chance that you should go and target them too. To get started enter your domain to site explorer
Next go to the content gap tool. At the search fields paste a couple of your competitor domains.
Then change the dropdown "any of the below targets" to "all of the below targets"
Look at the results list and find relevant keywords.
The way to run the results on the page level is click on the SERP button next to the keyword of your choosing, you'll see the top ranking pages for that keyword.
Take the top 3 relevant keywords and paste them into the search fields again, delete your URL at the bottom. Run that search and see all the keywords that the top ranking pages rank for.
Use the list of keywords as an outline for the content that you're about to create.
Preserve "link juice" from your broken pages - find them in the site explorer tool
Then go to Best by links report
It shows you the pages on your website that have the most backlinks. To find your broken pages just click on the filter HTTP code, and select 404 not found.
All you need to do now is fix the page or add a redirect to another relevant page, and fix any internal URLs pointing at the broken page.
Analyze your competitor's websites to find broken link building opportunities - just change the link in the search to the URL of the site you want to check. Then filter by HTTP code "404 not found".
Now you'll have a list of top ideas that you can create content around, and people to reach out to with some good old fashioned broken link building. If you want dive deeper into broken link building strategies, here is a great tutorial for it.  
Measuring ranking performance with the rank tracker tool:
Use the SERP (Search Engine Result Pages) tracking feature. It tracks 13 SERP types for all of your keywords
They show you which features are visible in SERPs, as well as the history of if you had that display before.
Another feature is the competitors report
You can track up to 5 of your competitors and see how you match up against them in various categories.
Achieve with Moz
Find long tail keywords that are questions based on a relevant keyword - keywords that are questions can be quick wins to include in your titles tags and headers tags. The way to find them is use the Moz Keywords Explorer tool to type in your keyword.
In the results page go to the drop down "Display keyword suggestions that", select "are questions"
If you use the filter "only include keywords with all of the query terms" then it will show you all the keyword phrases with that keyword, you'll find a bunch of relevant terms.
You can then check-mark all the keywords and add them to your keyword list which is really useful because you can set up lists for any number of projects or websites.
Then open that view under keyword lists
The keywords that have low Difficulty number and high Organic CTR (Click Through Rate) are the ones to go after. You can then export the keywords links and work with the spreadsheet when creating your content.
Check where we are improving against specific competitors similarly to Ahrefs
Use the Moz Ranking tool
Then see your competition in the graph and understand how you're tracking against them over time. If you are increasing in ranking then great you're doing something right. If they are increasing and you're not, then check what they are doing that you're don't.
Achieve with Ubersuggest
Use the Keyword Overview tool - to find how many people search for a keyword on desktop vs. mobile. It also tells you how many people click on the organic SEO results vs. paid results vs. no clicks. And search's age demographic information.
Keyword Ideas tool - gives you a list of suggestions related to the term you're researching. This way you can quickly see which keywords you may have been overlooking. It also shows you phrases that are comparisons, propositions and questions. This can be useful to include as sections in your blog post. You can see how difficult it is to rank for the keywords, who is ranking for them, how many links they have and how many social shares. This helps you to see how easy or hard it will be to rank for the keywords.
Content Ideas report - shows you all the popular blog posts that are popular based on that topic. It breaks it down by social shares, backlinks, and estimated traffic. When you scroll down and click on the Backlinks or Est. Visits it shows you all the traffic and keywords that the blog post ranks for, plus the position and the term. In backlinks it will show you every single site and anchor text that's linking to the article. This will help you create content that's similar to those blog posts but better! To create even better content use the Skyscraper technique by Brian Dean.
Analyze the traffic of any domain using the Traffic Analyzer tool - put in the URL in the search field and it will show you the traffic that the site is getting from Google over time. This report will also show you how many keywords that site ranks for. Keep in mind that just because a site ranks for a lot of keywords doesn't mean that it gets a lot of traffic. Some Keywords don't get much traffic. Other keywords get tons of traffic! That's what you can see in the traffic analyzer overview report.
Scroll down and click on any of the Top Pages
Then click View All to see all the keywords the page ranks for, and the volume of traffic each keyword drives. You can also see the position in ranks, and Cost Per Click if an ad targets that keyword.
The Backlinks View All will show you the number of backlinks for each page and who they are.
In the traffic analyzer there is also the Keywords report, use that to do competitive analysis. When you put a URL in that search field it shows you all the keywords the URL ranks for. It's a great way to discover what a site is targeting.
Use the Backlinks tool - put in a URL and it will show you the growth in backlinks over time. See all the sites that are linking to you or a competitor. It shows you the new and lost links on a daily basis.
Achieve with SEMrush
I like how SEMrush organizes the tools into useful functions: SEO, Advertising, Social Media, Content Marketing, Competitive Research.
Keyword Magic tool - type in a keyword to your niche, the results will show you how much traffic that keyword gets, it will also show you all the related keywords so you can deeply analyze your niche.
In the Content Marketing toolkit - you'll find a super useful feature called SEO Content Template to help you learn how to compose content that will compete well.
Enter your target keyword and the tool will analyze your competitor's content to give you ideas on how to write optimized content.
In the same Content Marketing section there is also the SEO Writing Assistant tool - you literally paste your blog post content or upload a file and it analyzes your content and gives you a score. Then it shows you recommendations on how to improve it.
SEMrush does a really good job showing you how to use features and how they will benefit you. Here is an example for the Content Audit screen. Where they tell you the steps for auditing your content so you can improve it. And you can even connect Google Analytics to it.
I have to say that Ahrefs and SEMrush are the most amazing tools. 
Ahrefs makes it super easy to do a competitive analysis and discover new opportunities.
SEMrush is mind blowing in how many useful tools they built for businesses.
If you want to get your SEO and content marketing ramped up quickly I recommend getting a trial with both Ahrefs and SEMrush. Explore every feature and you'll see how absolutely amazing they are. 
Here are great resources to refer to, so you can quickly learn about all the useful functionality:
Thanks for reading. I hope this guide helps you with your SEO efforts. If you enjoyed this blog post and find it useful, I'd really appreciate you sharing it on Twitter and tagging me at @curiousleyne